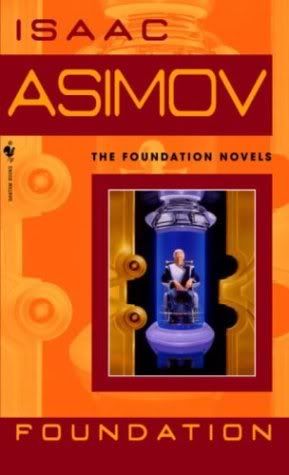 Ieri dimineata cind am vazut stirea ma gindeam s-o mai lipesc cu alta noutatea dar din moment ce nu a mai aparut nimic interesant, si au luat si altii atitudine, then here I go, too .
Valva mare duminica pe bloguri din pricina anuntului ca Studiourile Columbia au castigat drepturile de filmare ale cartii lui Isaac Asimov, "The foundation" ( pe care by the way nu am citit-o – desi am niste volume pe casa, insa un amic al unui coleg, venit acum citiva ani in vizita la camin, entuziasmat la maxim de roman mi-a povestit cat de detaliat a putut el care e "miscarea" si am ajuns la concluzia ca nu e pe gustul meu).
Dar sa revenim. Directorul fimului a fost numit Roland Emmerich, alaturi de un vechi partener de munca, Michael Wimer. Emerich este "vinovat" pentru succese ca Independence Day, The Day After Tomorrow ( desi se pare ca nu a fost chiar asa de bine primit) Stargate, Godzilla si recentul "slabut" 10,000 BC.  In ciuda unor lovituri de box office cu unele din filmele sale, circotasii au adus in discutie ca nu este o alegere prea fericita, din moment ce majoritatea filmelor regizate de el stau bine la capitolul efecte speciale si sunt foarte subtiri in ceea ce priveste dezvoltarea unei povesti relativ complexe.
Se pare si ca acelasi Emmerich este asociat tot pe Imdb cu un remake in 2010 al filmului din 1966, Fantastic Voyage. Filmul a fost scris de scriitorul Jerome Bixby ("It's a GOOD Life") si apoi preluat  si nuvelizat de Isaac Asimov ( creditat deseori cu ideea filmului, deoarece romanul a aparut inainte de turnarea filmului ).
"Fundatia" a fost publicata ca o serie de opt povestiri scurte in revista "Astounding Magazine" incepand cu anul 1942, fiind o saga complexa despre oamenii raspanditi de-a lungul galaxiei, traind sub dominatia unui Imperiu Galactic. Un psiho-istoric ce poate citi stiintific viitorul vede o cadere iminenta a imperiului si se porneste sa salveze cunostintele omenirii.