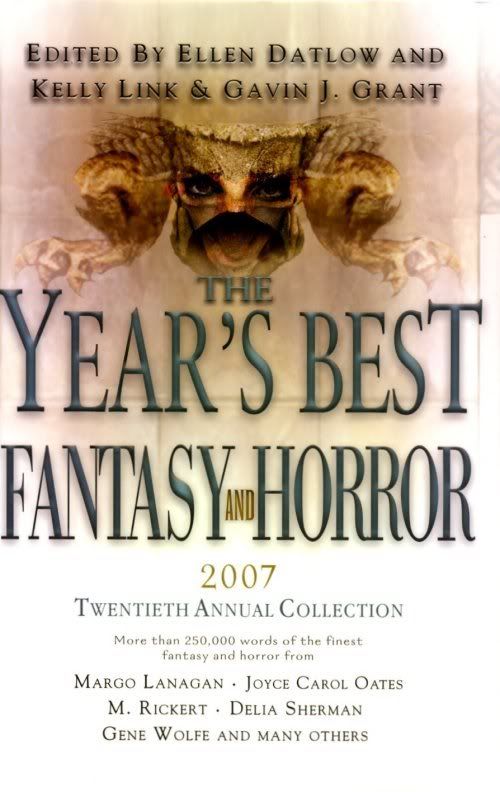 De la Gavin J. Grant avem parte de vesti triste. Se pare ca anul acesta nu va mai vedea lumina tiparului volumul anual din antologia The Year's Best Fantasy and Horror. Nu se precizeaza motivele si nici daca la anul va mai fi un altul. Antologia aparea pe piata de 21 de ani, Gavin J. Grant fiind antologatorul seriei  in ultimii sase ani, editant cinci numere, alaturi de mai celebrele Ellen Datlow si Kelly Link. Se pare ca lucrau la strangerea materialelor cind au primit vestea din partea editurii, Gavin J. Grant promitand ca va publica in cursul anului lucrarile  care i-au atras atentia si ce materiale considera el ca ar trebui recomandate.  Tot el a mai afirmat ca ar mai fi posibil ca antologia sa apara si la o alta editura insa nu este nimic sigur.
Second late update : In urma articolului de ieri Ellen Datlow a publicat un raspuns pe blogul dumneai afirmand ca publisher-ul Night Shade i-a oferit un contract pentru doua antologii Horror Best of the Year…una pentru anul in curs si anul care va veni…
***
S-au anuntat si nominalizatii la premiul  Philip K. Dick  pentru 2009. Acestia sunt:
Emissaries from the Dead, Adam-Troy Castro (Eos Books)
Endgame, Kristine Smith (Eos Books) late update : se pare ca romanul a fost inlocuit de Plague War, Jeff Carlson ( Ace)
Fast Forward 2, Lou Anders (ed.) (Pyr)
Judge, Karen Traviss (Eos Books)
Terminal Mind, David Walton (Meadowhawk Press)
Time Machines Repaired While-U-Wait, K. A. Bedford (EDGE Science Fiction and Fantasy Publishing)
Castigatorul va fi anuntat vineri, 10 aprilie 2009 la  Norwescon, Washington. Membrii juriului anul acesta sunt Tobias Buckell,  M. M. Buckner, Walter Hunt, Rosemary Kirstein, si William Senior.
***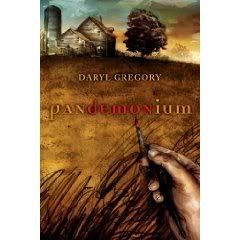 A fost desemnat si castigatorul premiului Crawford in 2009, acordat pentru cea mai buna carte fantasy apartinand unui scriitor tanar, fiind vorba de Daryl Gregory, si a sa Pandemonium (Del Rey). Ceilalti nominalizati au fost :
Doug Dorst, Alive in Necropolis (Riverhead);
David Schwartz, Superpowers (Three Rivers);
Felix Gilman, Thunderer (Bantam Spectra); and
J.M. McDermott, Last Dragon (Wizards of the Coast)
Premiul este sponsorizat de Asociatia Internationala pentru Fantastic in Arta aflandu-se la cea 25-a editie. Din jurul au facut parte:  Graham Sleight, Paul Witcover, Farah Mendlesohn, Niall Harrison, Cheryl Morgan, si Kelly Link. Acesta va fi oferit la Conferinta Internationala a asociatiei ce va avea loc intre 18 -22 martie in  Orlando, Florida.