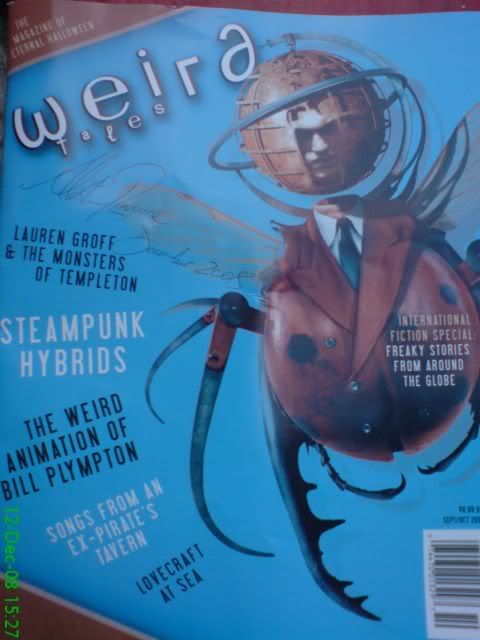 Din categoria surprize surprize,  iata ce cadou am primit astazi. Scriitorul Alistair Rennie a avut placerea de a-mi trimite via posta italiana numarul din septembrie/octombrie 2008 din revista Weird Tales. Ce fericire pe capul meu! 🙂
Revista Weird Tales, al carei editor de fictiune este Ann VanderMeer, cuprinde ultima povestire a scriitorului scotian Alistair Rennie, mutat in Italia,  "BleakWarrior Meets the Sons of Brawl" dar si alte texte ale unor autori ca:  Zoran Zivkovic, Sara Genge, Nir Yaniv, Rochita Loenen-Ruiz, Juraj Cervenak, si Chiles Samaniego.
Obiectivul acestui numar a fost de a aduce in fata cititorului povestirile fantastice ale scriitorilor de-a lungul intregului Glob, renuntand pentru un moment la cei americani.
Despre numarul de fata a mai vorbit si Costi Gurgu recent, absolut intamplator, si daca nu ati auzit de Alistair Rennie aveti aici interviul sau pentru cei care prefera engleza click aici. Transmit pe aceasta cale multumiri scriitorului si promit ca in curind voi posta si ceva impresii la cald.
Thank you again!