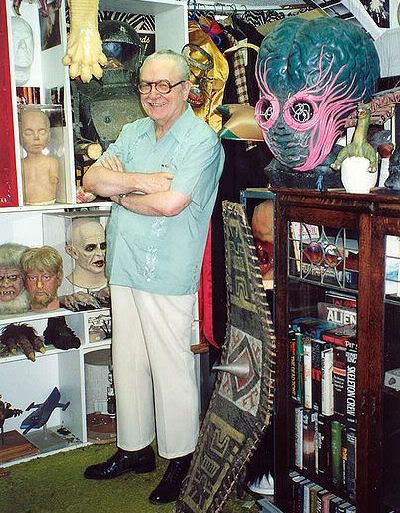 Pe 4 Decembrie, anul in curs, a decedat la varsta de 92 de ani, Forrest J Ackerman (24 Noiembrie, 1916 – 4 Decembrie, 2008), cunoscut ca unul dintre fanii pionieri ai science fiction-ului, editor si scriitor ce a incetatenit prescurtarea "sci-fi" in anii `50 si fondator al renumitei reviste "Famous Monsters of Filmland" (Monstri Faimosi ai lumii filmului).
Cunoscut ca un sustinator inimos al sf-ului si al horror-ului a fost acredidat ca a influentat, in bine evident, prin revistata editata, viitorul unor scriitori ca Stephen King sau regizorii, Joe Dante, John Landis si Steven Spielberg, ce i-a semnat odata o dedicatie speciala cu mesajul "O generatie de iubitori de fantasy iti multumeste pentru ca ne-ai crescut asa de bine."
Ca fapt inedit, Ackerman a fost odata nevoit ca la un festival de film din New York, pe parcursul a trei zile, sa semneze circa 10.000 de autografe.
A mai fost acreditat ca initiatorul benzii desenate "Vampirella" si "Jeanie of Questar", cunoscandu-i atat pe Bela Lugosi cat si pe Karloff,  avand o colectie de de peste 300.000 de produse din domeniul science-fiction, horror si fantasy, printre care si pelerina din filmul "Dracula", 1931, a lui Lugosi.
Una dintre cele mai mari realizari ale sale este considerata descoperirea lui Bradbury si sustinerea financiara a acestuia la inceput de cariera, pe cind era inca un anonim. Ca agent literar i-a reprezentat printre altii si pe Asimov si Bradbury.
Odihnească-se în pace!