David Tennant paraseste rolul Doctor Who
David Tennant va renunta la rolul sau din serialul BBC, Doctor Who, dupa ce a devenit unul dintre cei mai populari actori ce l-au jucat pina acum pe celebrul doctor .El a fost introdus in serial in anul 2005 si va parasi barca dupa ce va mai juca in inca alte patru episoade speciale ce vor fi difuzate anul viitor. O alta certitudine este ca se lucreaza din zor la iesirea actorului urmarindu-se un final de serie spectaculos.
Exista patru favoriti  la preluarea rolului, cele mai mare sanse avandu-le Paterson Joseph.

Ridley Scott va adapta pentru marele ecran romanul Forever War
Ridley Scott a primit drepturile de ecranizare ale romanului lui Joe Haldeman, premiat cu  Hugo, The Forever War, considerat a fi unul dintre cele mai bune romane anti-razboi din toate timpurile. Haldeman a scris cartea dupa intoarcerea sa din Vietman, pentru ca rind pe rind ea sa fie refuzata de edituri, determinandu-l pe scriitor sa o mai retuseze pentru a putea fi publicata in cele din urma.
Fox 2000 au cumparat drepturile romanului publicat in 1974, Ridley Scott planuind sa revina pe marile ecrane cu un nou film science fiction dupa laudatele Alien si Blade Runner. Se pare ca Ridley a incercat sa puna mana pe drepturile de ecranizare de inca acum 25 de ani insa datorita complicatiilor cu drepturile de autor lucrurile au stagnat.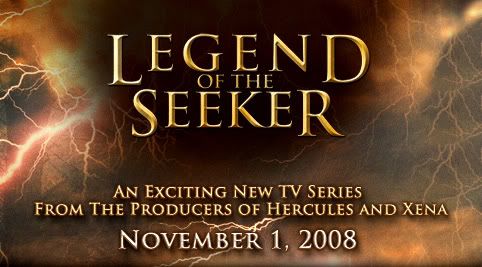 Un nou serial Fantasy incepand cu 1 Noiembrie
Este vorba de Legend of the Seeker, o adaptare dupa seria  scriitorul Terry Goodkind, The Sword of Truth . Serialul urmareste calatoria fantastica a unui tanar padurar, Richard Cypher (jucat de Craig Horner) si o femeie misterioasa pe nume Kahlan Amnell ( Bridget Regan) in incercarea de a opri un vrajitor malefic, cum altfel, de a elibera in lume o forta straveche si terifianta. Filmarile au loc in locatii din Noua Zeelanda, o mare parte din primul episod fiind filmata in Parcul Lion, in apropierea Auckland-ului, cel mai populat oras al tarii.  Primul trailer il aveti aici.