Din ce stim cu totii benzile desenate cele mai cunoscute sunt cele cu superheroes de la Marvel sau DC Comics, dupa care s-au si facut numeroase ecranizari la Hollywood, nu si reusite marea majoritate, exceptandu-le pe mai noile Sin City si 300 dupa benzile lui Frank Miller, care nu urmaresc insa aventurile unor super eroi clasici.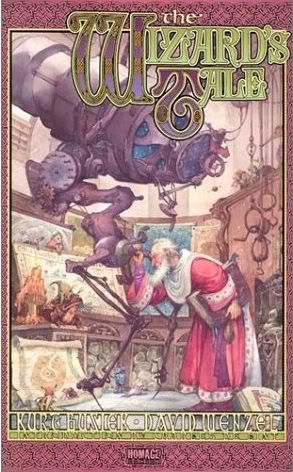 Unele genuri au fost insa mai mereu marginalizate, dintre ele facand parte si fantasy-ul clasic cu vrajitori si domnite rapite de capcauni, cu zine si elfi, cavaleri si povesti fantastice. O incercare de a completa acest sector mai putin batatorit au avut-o mai cunoscutul Kurt Busiek care are in portofoliu creatii cu success la public si critica, ca Astro City la publisher-ul Wildstorm, supereroii din Avengers, Iron-Man, SpiderMan in universul Marvel sau mai recentul Conan de la publisher-ul Darkhorse, atat cu seria stand-alone de patru numere The Book Of Thoth, cat si aparitii in primele numere ale reeditarii vechii francize alui Robert E. Howard, primele 2 numere fiind publicate si la noi in scurta existenta a revistei Carusel de dupa anii 2000 si David Wenzel ce a ilustrat in marea majoritate a cazurilor carti pentru copii . Cea mai cunoscuta banda desenata a sa o reprezinta o adaptare dupa Hobbitul lui J.R.R. Tolkien ce este considerata una dintre cele mai de success adaptari dupa o opera literara.
Cei doi si-au reunite fortele, si in 1997 au scos pe piata la Homage Comics o subdivizie a Wildstorm comics, la randul ei afiliata companiei DC Comics, banda desenata, The Wizard's Tale in care un vrajitor, descendent al unei familii cu renume in zona intunecata a magiei nu reuseste sa se ridice la nivelul inaintasilor sai, ci dimpotriva isi demostreaza din plin bunatatea si lipsa oricarei inclinatii pentru magia neagra. Trebuie spus din start, povestea nu este neaparat punctul forte al benzii si target-ul sau ar fi persoanele mai putin in varsta, in schimb pe cat de subtire poate parea plot-ul pe atat de atragatoare si pline de caldura sunt desenele lui David Wenzel. Cum ziceam, povestea e simpla vrajitorul cu descendenta neagra, Bafflerog este silit de imprejurari, printre care l-as aminti si pe conducatorul Consiliului vrajitorilor intunecati, dar si de efectele bune ale vrajilor sale sa porneasca in cautarea unei carti magice cu puteri intunecate, ascunsa in vremurile stravechi. Actiunea benzii curge usor spre un final previzibil insa imaginile incanta pur si simplu ochiul asigurand deliciul oricarui carcotas.
Daca aveti posibilitatea o puteti comanda de aici, si, desi la comentarii nu intalnim doar aprecieri, daca mai aveti si copii prin casa sigur nu o sa va para rau, si nu zic ca doar lor le-ar place, insa depinde acum si de gusturi.  Ca sa va faceti o idee aveti mai jos cateva ilustratii luate de pe site-ul lui Wenzel.