The Hunger Games (23 Martie) – regia: Gary Ross, cu: Jennifer Lawrence
Nu am citit cărțile dar cu siguranță că voi vedea acest film și asta datorită loviturii de maestru care a dat-o Gary Ross, regizorul lui Sea Biscuit, prin aducerea lui Jennifer Lawrence să joace rolul principal; o actriță nominalizată la Oscar pentru excelentul Winter's Bone dar care este suficient de necunoscută pentru a juca un personaj iconic și care pe lângă că este unul dintre mai apreciate modele din SUA, este și una dintre cele mai talentate tinere actrițe.
Lockout (22 Aprilie) – regia: James Mather, cu: Guy Pierce
Un film scris de Luc Besson, despre un condamnat pe nedrept pentru spionaj, căruia i se oferă libertatea în schimbul eliberării fetei președintelui SUA de pe o stație orbitală; îmi place trailer-ul.
The Avengers (4 Mai) regia: Joss Whedon, cu: Robert Downey Jr., Chris Evans, Scarlett Johansson
Un film care îi aduce împreună pe Iron Man, Captain America, Thor sau Hulk; pentru mine singurul lucru interesant legat de Avengers e că este regizat de Joss Whedon, creatorul lui Firefly, Buffy și Dollhouse.
Dark Shadows (11 Mai) – regia: Tim Burton, cu: Johnny Depp, Michelle Pfeiffer, Eva Green
Cred că Tim Burton nu mai are nevoie de nici o prezentare; filmul este un remake după celebrul serial de televiziune și este centrat pe viața unui vampir și întâlnirile acestuia cu diferiți monștrii; îl aștept cu nerăbdare pentru că vampirul lui Burton va fi ca nici un alt vampir de până acum.
Battleship (18 Mai) – regia: Peter Berg, cu: Liam Neeson, Rihanna
Ce să spun… Unii numesc și chestia asta film, așa că l-am pus pe listă; totuși dacă vor prezenta luptele, după cum am auzit, din perspectiva oamenilor dar și din cea a extratereștrilor, s-ar putea să fie puțin mai interesant decât părea la prima vedere; iar prezenta lui Rihanna nu strică nici ea.
Men in Black III (25 Mai) – regia: Barry Sonnenfeld cu: Will Smith, Tommy Lee Jones și Josh Brolin
Nu cred că tremura cineva de nerăbdare să apară această continuare; asta e, până la urmă probabil va avea încasări uriașe pentru că publicul înghite orice, mai ales dacă are 2, 3, 4 sau 100 în coadă.
Prometheus (8 Iunie) – regia: Ridley Scott, cu: Noomi Rapace, Charlize Theron, Patrick Wilson, Michael Fassbender, Guy Pierce, Idris Elba
Ridley Scott (Alien, Blade Runner) este destul de misterios în legătură cu acest film, nu știm cu certitudine care este subiectul și nici dacă este sau nu, de fapt, un prequel al lui Alien; cred că este o strategie foarte bună, creează multă nerăbdare, iar pleiada de actori interesanți sigur nu strică.
Abraham Lincoln: Vampire Hunter (22 Iunie) – regia: Timur Bekmambetov cu: Benjamin Walker, Rufus Sewell, Dominic Cooper
Unde și-au găsit acest tip de cărți publicul eu nu înțeleg, dar oricum au devenit best-seller-uri; filmul e regizat de Timur Bekmambetov, cel care a realizat filmele cu cele mai mari încasări în Rusia după 90: Night Watch și Day Watch; măcar știm că acest film va fi unul spectaculos.
Brave (22 Iunie) – regia: Mark Andrews, Brenda Chapman
Calitatea filmelor scoase de Pixar este incredibilă; rar se întâmplă ca producția lor să nu fie cel mai bun film de orice fel al anului; nu știu cât de fantastic este acesta, dar se află, pentru mine, în top 3-ul celor mai așteptate filme din 2012.
The Amazing Spider-Man (3 Iulie) – regia: Marc Webb cu: Andrew Garfield, Emma Stone
Un regizor nou, 2 actori noi care-mi plac mult mai mult; trebuie să recunosc că cel puțin din trailer filmul arată bine.
The Dark Knight Rises (20 Iulie) – regia: Christopher Nolan cu: Christian Bale, Joseph Gordon-Levitt, Gary Oldmanm, Anne Hathaway
Vă provoc să încercați să găsiți un singur film prost făcut de Nolan; nu o să reușiți; Dark Knight Rises va fi siguranță filmul nr.1 al anului la box-office, dar să nu vă mirați dacă va deveni unul dintre favoriții la premiul Oscar.
Total Recall (3 August) cu: Colin Farell, Jessica Biel, Kate Beckinsale
Care ar fi rostul acestui remake, eu nu pot pricepe?; filmul e făcut de Len Wiseman, cel care și-a îngropat soția, Kate Beckinsale, în seria de filme Underworld.
Looper (28 Septembrie) – regia: Ryan Johnson cu: Joseph Gordon-Levitt, Bruce Willis, Emily Blunt
Un nou film care părea din seria de filme SF slăbuțe scoase de Willis în septembrie; dar zvonurile sunt că această producție despre călătoria în timp și paradoxurile ei, este un SF bine realizat.
Frankenweenie (5 Octombrie) regia: Tim Burton.
A doua producție Tim Burton pe 2012; yummy.
Cloud Atlas (19 Octombrie) – regia: Frații Wachowski cu: Tom Hanks, Hugh Grant, Halle Berry
Nu știu dacă acest film făcut după o carte deloc ușoară de transpus pe ecrane, va marca revenirea fraților Wachowski sau va fi un nou fiasco din lung șir post primul Matrix.
Gravity (21 Noiembrie)  regia: Alfonso Cuarón cu: Sandra Bulock, George Clooney.
Lui Cuaron (Children of Men) i-a luat o veșnicie să pună acest proiect pe picioare; să sperăm că acest film despre o femeie astronaut naufragiată în spațiu, a meritat așteptare; James Cameron a spus că din punct de vedere tehnic acest film este cu 5 ani peste tot ceea ce s-a filmat până acum.
The Life of Pi (12 Decembrie) regia: Ang Lee cu: Suraj Sharma, Irrfan Khan, Tobey Maguire
Am mari speranțe legate de acest film datorită regizorului Ang Lee, cel care ne-a dat Sense and Sensibility, Crounching Tiger, Hidden Dragon sau Brokeback Mountain.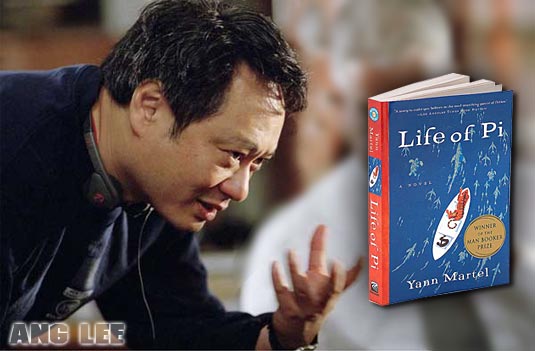 The Hobbit (14 Decembrie) regia: Peter Jackson cu: Martin Freeman, Ian McKellen, Richard Armitage
Fără cuvinte; următorul Middle Earth al lui Jackson nu are nici un motiv să nu fie la fel de bun ca și primele 3.
World War Z  (20 Decembrie) regia: Marc Forster cu: Brad Pitt, Mathew Fox
Un film făcut după celebra carte World War Z: An Oral History of the Zombie War, regizat de cel care a făcut Monsters Ball și Finding Neverland; prezența lui Brad Pitt este, zic eu, o garanție că filmul va fi cel puțin decent.