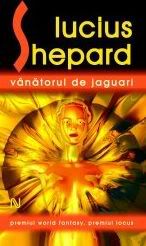 Lucius Shepard desi este vazut ca un scriitor de science fiction si fantasy, mai construieste deseori si alte lucrari ce apartin unui realism magic, multe dintre aceste povestiri fiind inchinate misterului si supranaturalului, cum este cazul si antologiei de fata. Prima povestire a aparut in 1983 iar primul sau roman, "Green Eyes" in 1984. In 1985 a castigat John W. Campbell Award pentru cel mai bun debutant, urmat imediat in 1986 de premiul Nebula pentru nuvela sa "R&R" si in 1993 a castigat premiul Hugo pentru nuvela "Barnacle Bill the Spacer". In 2008 a recidivat si, listei lungi de premii despre care mai puteti afla si din foia de prezentare aflata la inceputul antologiei, i se adauga si premiul International Horror Guild la categoria Long Fiction pentru romanul "Softspoken" si premiul la categoria Culegeri de fictiune, cu "Dagger Key and Other Stories", dupa cum am anuntat si anterior.
Jaguar Hunter a fost publicat pentru prima data in 1987 la editura Arkham House castigand in 1988 premiul World Fantasy Award pentru Cea mai Buna Colectie. Povestile reunite in acest volum au aparut de-a lungul timpului in diverse reviste ca, Isaac Asimov's Science Fiction Magazine, Universe si The Magazine of Fantasy and Science Fiction. In antologia de fata sunt cuprinse o serie de 12 povestiri cu teme care mai de care mai variate, insa in toate se reintalneste necunoscutul si misterul ca principale obsesii ale scriitorului, fraza prezentand o anumita poezie a intamplarilor si imaginilor, aducandu-mi aminte in unele momente de K.J. Bishop, daca ar fi sa fac o paralela. Nu poti sa nu remarci abundenta intamplarilor in care se face referire la razboiul din Vietnam, sau chiar daca nu este aleasa aceasta locatie, orice alt razboi, planurile construindu-se atat pe scheletul unor intamplari fantastice cu radacini in scrierile lui Lovecraft cat si pe trairile interioare si framantarile personajelor confruntate cu ororile razboiului si diverse alte situatii limita. Cu alte cuvinte se poate observa o puternica amprenta psihologica aplicata povestirilor sale, angoasa, nelinistea si uneori nebunia constituind adevarat puncte de reper si de inspiratie pentru scriitor, gravitand cu insistenta in conturarea diverselor caractere si personalitati ce-i populeaza si condimenteaza povestirile.
Una din povestirile ce mi-a placut in mod special a fost, "Cum glasuia vantul la Madaket", ce impresioneaza prin forta si migala imaginiilor, tema abordata inlantuindu-se in jurul acestor constante cu fermitate, intr-un tablou de o gravitate sfarsaietoare. Totusi, daca povestirea are toate sansele sa tina in priza un cititor si sa-l conecteze cu succes la firul ei, finalul m-a lasat un pic frustrat deoarece contrazice intreaga idee si sentimentele consumate pentru a se ajunge acolo, antrenand un registru larg de resurse ce culmineaza cu sacrificiul suprem. Insa, probabil, frustrarea a venit tocmai din corespondenta cu realitatea a acestei evolutii, asemanatoare foarte mult cu natura umana, schimbatoare si capricioasa prin definitie, nemultumita mai mereu de statut si aspirand tot mai sus. Povestirea mi-a adus aminte de filmul "Birds" regizat de Alfred Hitchcock, evocand cu acelasi succes, de aceasta data in scris, lipsit de forta aportului vizual, imaginea unui oras si a locuitorilor sai aflati sub asediul supranaturalului de obarsie necunoscuta, insa malefic prin actiunile sale.
"Omul care a pictat dragonul Griaule" dovedeste ca autorul poate scrie si fantasy, schimband cu usurinta registrul literar si obtinand un tablou descriptional desprins parca din Ambergris-ul lui VanderMeer prin puterea si stranietatea imaginilor oferite. Totusi nici celelalte povestiri nu sunt de ratat, diversitatea ideilor abordate oferind marturie pentru capacitatile literare deosebite ale scriitorului, ce nu pierde niciun prilej de a oferi crampeie din propria viziune asupra lumii si motivatiilor din spatele actiunilor umane, poleite de evenimente si fapturi cu radacini bine ancorate in necunoscut. Toate bune si frumoase, insa ( bine ca mi-am amintit) povestirea "Permisia" a abuzat cam tare de rabdarea mea, gasind-o prea lunga si alambicata pentru gustul meu, autorul schimband perspectivele chiar cand nu te astepti, iar cand ai presupune ca ar urma sa se intample ceva, vezi sa nu, rezulta un amalgam destul de spinos. Despre "Radiant Green Star", ultima povestire, adaugata ulterior antologiei de autor si castigatoare a premiului Locus in 2001, pot spune ca a fost o lectura usurica si placuta, cu nu prea multe elemente de sf, insa suficiente probabil cat sa-i aduca premiul respectiv, intriga fiind punctul forte in acest scenariu.
Si de aceasta data mi-a placut, ca desi are in jur de 800 de pagini, cartea nu s-a uzat vizibil, pastrandu-se proaspata si in forma pentru locul din biblioteca. Cred ca iubitorii scrieriilor lui Lovecraft, Sturgeon, poate si o parte a fanilor curentului New Wierd, alaturi de cei ce gasesc placere in deslusirea misterelor ce ne incojoara, pot gasi in cartea de fata o lectura placuta si agreabila, un adevarat punct de pornire spre cunoasterea scrierilor lui Lucius Shepard.