Zilele astea am avut ocazia de a viziona The Dark Knight in regia lui Christopher Nolan. Desi pina mai deunazi un necunoscut, se pare ca detine reteta succesului din moment ce aceasta a doua parte a noului Batman este foarte apreciata, atat de fani cat si de critici deopotriva.
Am zis necunoscut, pentru ca primul film cu succes atat la public cat si la critici a fost "Memento" in 2000 nominalizat la Golden Globe si la Oscar pentru cel mai bun scenariu, avandu-l pe Guy Pearce in rolul principal, cunoscut noua din sf-ul "The Time Machine" ecranizat in 2002. A urmat "Insomnia" cu Al Pacino, Robin Williams si Hilary Swank, un remake dupa un film norvegian, ce nu a rupt gura targului, chiar daca a fost apreciat de critici.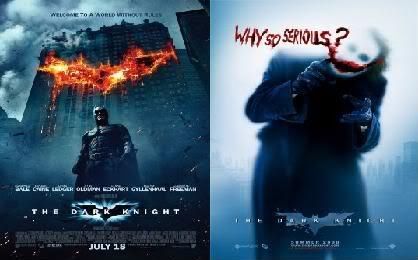 Meritul lui Nolan este cu atat mai mare cu cat a reusit in 2003, prin Batman Begins, sa convinga marele studio Warner Bros sa puna in bratele unui regizor inca necopt o franciza cu pretentii. Si se pare ca a dat lovitura. In 2006 a regizat "The Prestige" o ecranizare dupa cartea lui Christopher Priest in care il gasim pe omniprezentul Christian Bale, Michael Caine, Hugh Jackman si Scarlett Johansson. Si am ajuns in 2008 cind ne-a pregatit pentru vizionare "The Dark Knight" cu acelasi Christian Bale in rol principal, regretatul Heath Ledger interpretandu-l pe The Joker, Aaron Eckhart carismaticul procurorul Harvey Dent ce devine Two-Face, si daca va spun ca mai avem sansa sa-l admiram si pe Scarecrow, pe Gary Oldman muuuult schimbat fata de cel ce juca in "The fifth element", Morgan Freeman, Michael Caine, Eric Roberts, va puteti face o imagine despre  cat interes a starnit aceasta continuare, cel putin printre actori. Si, spre bucuria mea, filmul, spre deosebire de altele cu super eroi gen SpiderMan, Elektra, Daredevil chiar a fost o experienta placuta.
Povestea nu sparge nici un tipar, insa este bine pusa in scena, jocul actorilor contribuind foarte mult la asigurarea fluidizarii actiunii si desfasurarii evenimentelor. Ledger care nu mi s-a parut un actor carismatic sau macar in stare sa execute un rol asa de complex ca cel a lui Joker se descurca de minune. Pierderea acestuia este cu atat mai mare in momentul in care constientizam acest lucru. Nu exagerez cand spun ca este filmul lui, a mai avut parte de blockbustere, insa un rol care sa-l solicite atat de mult si el sa ofere maximul nu cred ca se intalneste asa usor. Si restul actorilor se desfasoara cu naturalete insa par niste pioni pe tabla de sah adunati in jurul regelui Ledger.
Cel putin o situatie, in care se foloseste o tehnologie noua, este controversata si bulversanta pentru spectator, cea in care Batman identifica o amprenta folosind o caramida gaurita de gont fara a avea insa glontul. Din cate am vazut nu am fost singurul care si-a pus intrebari, insa trebuie mentionat ca tehnologia prin care se poate culege o amprenta de pe un glont exista  si a inceput sa fie aplicata si de catre politisti. Mai multe detalii am gasit in The Guardian, unde se spune ca intradevar amprentele tragatorilor pot fi obtinute si din reconstituirea gloantelor formula chimica prin care se permite acest lucru fiind inca neclara. Cert este ca se poate, insa ramane intrebarea cat de credibila este obtinerea amprentei prin tragerea altui glont si obtinerea aceluiasi tipar, si implicit a amprentei buclucase.
Merita amintita si folosirea undelor emise de telefoanele mobile si prin accesul direct la reteaua de telefonie mobila Batman reuseste sa obtina imagini gen infrarosu ale cladirii si a persoanelor din interiorul ei. Ramane de vazut cat adevar si aplicare, in realitate, are si aceasta metoda.
Revenind la film, imi mentin ideea de mai sus, prestatia lui Ledger este cea care fascineaza si tine in suspans spectatorul, povestea nefiind prea complicata sau greu de urmarit. Daca ruleaza la cinema-urile din zona voastra va recomand sa mergeti sa-l vedeti pentru ca nu veti regreta. Eu cel putin nu am facut-o.